Enjoy a fun, untimed, monsoon run amidst hills, coffee estates, and a secluded lake at this rustic hill station.
August 13, 2017
COORG, KA - SUNDAY AUG 13 2017
About
| | |
| --- | --- |
| | Take a monsoon run vacation in Coorg - Run past coffee estates, a secluded lake and the Western Ghats - one among ten biodiversity hotspots in the World. |
Distances
| | |
| --- | --- |
| | Distances: 5 KM, 10 KM, 21 KM Venue: Field Marshal K M Cariappa College Start Time: 6.30 AM |
JUST AN OVERNIGHT TRIP AWAY!
The Coorg run routes head south into Madikeri town, past a scenic viewpoint favored by the erstwhile kings of Kodagu, and then northward into the Western Ghats – expect stunning views, rolling hills and a peaceful lake as you head out and back to the start point.
The run logo - beans and all - is etched onto the finisher medal It's made of irregularly shaped seasoned wood. Not featured in the logo, or in the medal is the heady aroma associated with roasted coffee beans - come run in Coorg to experience that first-hand! 
The souvenir run T-shirt is inspired by the dress of the local Kodava community. The men wearing wraparound robes called the Kupya and carry their ancestral war knives tucked away in their waistbands, and the women have a distinctive style of wearing the Saree.
It may be called the Scotland of India, but Coorg, the rustic hill station of the South, is more than its green pastoral lands and exotic coffee plantations.
Situated as it is on the slopes of the Western Ghats, Kodagu (Coorg) district has plenty of hills and trek routes to explore.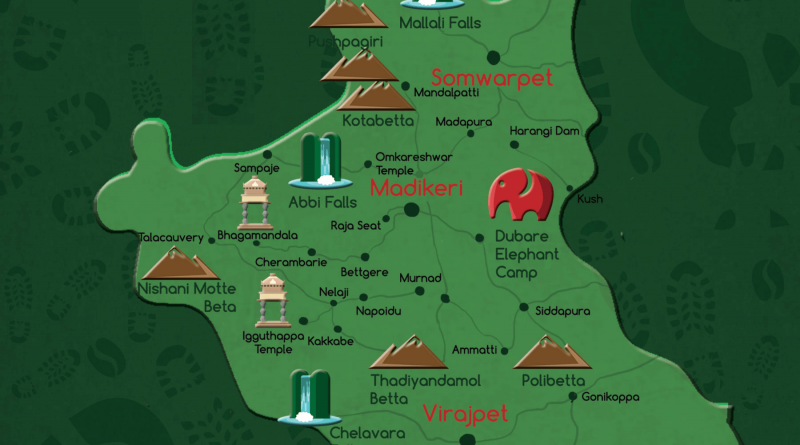 The Kodagu district is part of one of the world's biodiversity hotspots. Here are ideas on how you can explore Coorg on the run weekend.
Suggestions for hotels and suggestions on how to get to Madikeri from Mysore, Bangalore, Chennai, Hyderabad.
The traditional side of Coorg has a lot to offer - the Talacauvery and the Bhagamandala temples are perfect for the spiritual traveller who enjoys mystical tales, positive vibes and a rejuvenating dip in the Kaveri's waters.
Traces of Coorg's roots can still be faintly heard from the forests, where groups of men and women chant and worship nature to the rhythmic beat of drums in their sacred groves.
The Coorgis or Kodava people speak Kodava Tak, a Dravidian dialect. Linguists are of the opinion that the language is still in its infancy, but off late, it has taken prominent stride and is now spoken by a large section of the Kodava population.
The best part of Go Heritage Runs is that we are a series. Which means that the destinations change, but some things will always stay same - scenic, historic routes, a great family friendly experience and a fun run-vacation. Keep in touch with us and take a run-vacation with us this year!
With a run almost every month, Go Heritage Runs are the best travel plan for you! See the runs planned and announced on our calendar.
Know of run routes in your town or city that traverse heritage sites? Share them with us and the heritage running community!
Get your own GHR Passport and a stamp every time you come to our run-vacations! It's a fun way - for kids and adults alike - to track the fun times you have with us!